07/27/17
05:30
Clear, low 70s
DISCLAIMER
PRAYER
COP
Motivator (7 IC)
Little Baby Arm Circles (15 IC)
Little Baby Arm Circles In Reverse (15 IC)
Pretzels (20 IC)
Merkins (10 IC)
Willie Mays Hays (10 IC)
Mosey – Long mosey to Burpee Cove, do five burpees (on your own), mosey back for THE THANG
THE THANG
Today, the men of F3 Erwin took a little trip to Burpee Cove! To get to Burpee Cove, we had to
Cone 1 – 10 merkins – mosey to cone 2
Cone 2 – 20 squats – mosey to cone 3
Cone 3 – 30 LBCs (single count) – mosey to cone 4
Cone 4 – mosey on to Burpee Cove, do 5 burpees, mosey back to cone 1
Rinse and Repeat
MARY
We took THE THANG all the way to the end.  As we waited on the six for everyone to circle, we cranked out 10 Merkins (4 count IC) for "fun".
CIRCLE OF TRUST
Welcome to our FNG Nick Hubbard – 30 – Special Ed teacher at Unicoi County Middle School – first job was ride operator (Apollo's Chariot) at Busch Gardens Williamsburg – F3 Name is now Carny
PRAYER
Prayers for Jester in JC as he takes a major exam today
Prayers for Donatello from discussion in Slack
MOLESKIN
YHC was a bit concerned about the amount of moseying we would do today (which was around 2.5 miles in total).  However, the PAX in Erwin stepped up to the challenge and hammered it home.
YHC had the opportunity to attend the groundbreaking ceremony for the new hospital in Unicoi County.  There is something exciting about a groundbreaking ceremony.  In particular, there is a buzz around the shovel planted in the ground.  It is a powerful visual image that change is about to occur.  In Unicoi County, we are going to watch a beautiful new hospital become a reality that will ultimately be a place in which lives will be changed.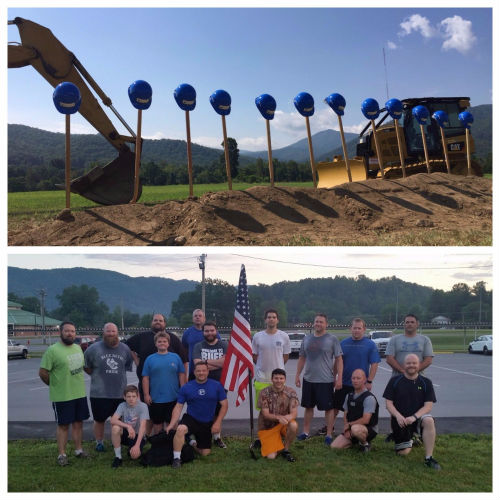 April 1st, 2017, a different type of shovel was planted in Unicoi County.  That shovel was the shovel flag of F3 Erwin – Iron Valley.  Over these past (almost) four months, many lives have been changed in our community – mine included – thanks to this shovel.  So many incredible men in our community make the difficult choice at 0530 to kick mediocrity out the door and win the first battle of the day.  As a group, we (me) struggled with completing motivators from 5, now we are cranking them out at 7, 8, 10, 12. This has been so needed in my life, not just only from a fitness perspective, but from the 2nd and 3rd F perspectives as well.  YHC is so incredibly blessed and thankful for these men and this opportunity to build friendships and sharpen each other as Iron Sharpens Iron.
ANNOUNCEMENTS
A couple of upcoming events mentioned this morning in COT in Erwin