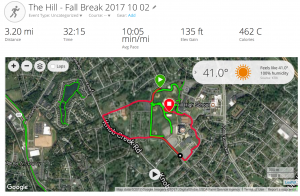 5 PAX showed up for a brisk fall-like morning of 41 degrees for a Honeysuckle Q.
DISCLAIMER
PRAYER
COP
TTT – OYO
WMH – OYO
Other random stretching, high steps, kicks, OYO
THE THANG
Field Trip – 2.35 mile Indian run (see map).  Average pace 8:30-9:00/mile.
Back on the field, suicide burpee ladder: sprint to the 10 yd line, Bernie Sanders back to the goal line, 1 burpee; sprint to the 20 yd line, Bernie Sanders back to the goal line, 2 burpees; rinse and repeat every 10 yards to the opposite goal line/10 burpees.
Final event was some tackling practice at the end of the field.
MARY
60 seconds of flutter kicks IC
CIRCLE OF TRUST
PRAYER
MOLESKIN
October 2017 marks the 500th anniversary of Martin Luther nailing his 95 theses to the church door in Wittenberg, Germany, which effectively started what we now call the Protestant Reformation.  2 Tim 3:16-17: All scripture is inspired by God and is profitable for teaching, for rebuking, for correcting, for training in righteousness so that the man of God may be complete, equipped for every good work.  Just a reminder of the first of the 5 solas, Sola Scriptura or "scripture alone".  Luther recognized the hypocrisy of fallen men claiming to know more than God and to have more authority than His inspired scripture.  As fallen humans, we need a moral compass to keep our life pointed in the right direction.  Books are great, smart people are great, righteous people give great advice, but the foundation for the Christian man is God's inspired Word.  It may not tell us everything we want to know, but it tells us what we need to know, nothing more, nothing less.  A reminder gentlemen to exercise your spiritual soul just as you do your physical body by spending time in the Word.