WEATHER – 34 degrees
DISCLAIMER – at this point we knew we were in trouble when Flintstone didn't come right out and say he wasn't a professional!?!?  He did warn us not to hurt ourselves!
PRAYER – 1 Corinthians 6:19-20    19 Do you not know that your bodies are temples of the Holy Spirit, who is in you, whom you have received from God? You are not your own; 20 you were bought at a price. Therefore honor God with your bodies.
WARM UP
Bat Flapper Arm Circles (LBAC) – IC – 20
Bat Flapper Arm Circles in Rev. – IC – 20
Chocolate Covered Arm Pretzels – IC – 20
Jumping Jack – o – lanterns – IC – 20
Scary Ol' Abe Vigoda's – IC – 10
Deliverance Hillbilly Walkers – IC – 10
Imperial Storm Tropper Walkers – IC – 10
Formed 2 lines for additional dynamic warm ups from cone to cone
Frankenstein Walk
Tippy Toes Walk to keep from stiring up Zombies
Heal Walk to squash the creepy crawlers
Snake Avoidance High Knees
Butt Kickers to wipe the dead bugs from your feet
Skip to appear unafraid
Skip Backwards to run away nonchalantly
Sideways (karaoke) to remain vigilant of Zombies
Zombie run – 2 groups.   The slow "old", "bad knees", "sick as a dog" group got a head start from the "nibble" "fast" Zombies.  IF caught there was a burpee plan but I think the Q had more faith in the Zombies and the old folks.  We survived…………well some of us.
THE THANG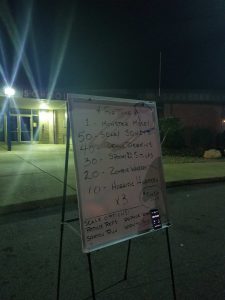 The QIC with isle in hand instructed the group this was a timed event. Not against each other but only to gauge our progress when this makes it's return.  
1 Monster Mosey lap
50 Scary Squats
40 Demon Derkins
30 Big Boy Spooky Situps
20 Zombie Lunges
10 Horrific Hurpees (It was made clear they were Hand release Burpees not to be confused with the STD)
Rinse and Repeat  –  most completed two and started a third helping of the Halloween Hurt at 20 minute mark
MARY
Flutter Kicks – OYO – 100
CIRCLE OF TRUST
PRAYER – Lord's Prayer
COUNT – A – ROMA  – 14  maybe 15 looking back at the picture!?!?  
NAME – A – ROMA  – some remembered their age and birth name other did not……… but at least they were present
MOLESKIN
YHC was looking forward to this Q and was not disappointed. Strong work from our PAX and even more from our VQ.  Flintstone brought it like a season vet!  There was less mumble chatter.  A lot of support and encouragement was provided.
ANNOUNCEMENTS
Trick or Treating downtown tonight.   Starts at 6pm.