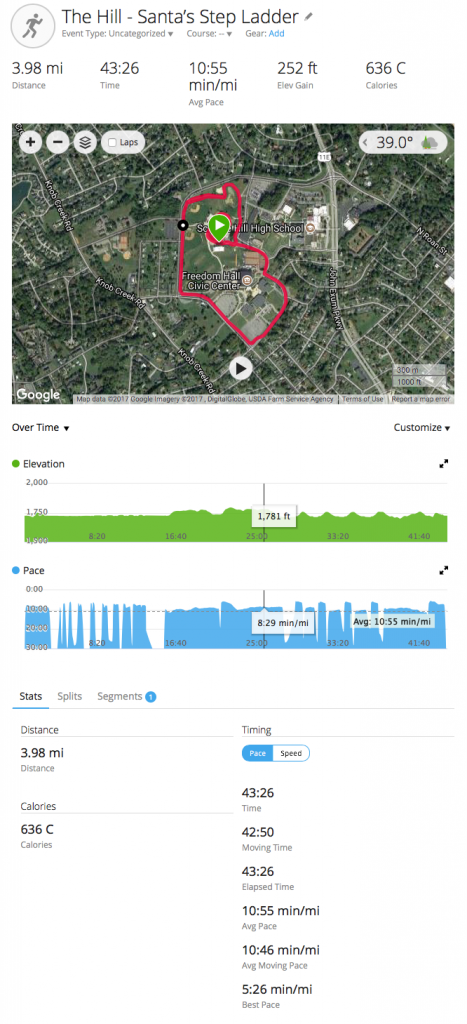 39 & wet for 10 brave PAX who made it in for a Honeysuckle led Q
DISCLAIMER
PRAYER
COP
Some stretching OYO
THE THANG
After a warm-up lap, line up on the goal line for the Step Ladder.  Basically a suicide on the football field with escalating burpees on each 10 yard line (2 @10, 4 @20, so forth – after 10 burpees at the 50 yd line, work back down).  
Sphinx plank on the 6's.
Hill trip.  Around the Hall with an uphill sprint.  After circling back to the skate park hill, the PAX paired up by 2's for a little competition.  4 "sprints" to the top of the hill with a mosey back to the bottom.  Mosey to the track with just enough time for 200m sprint followed by 200m cool down.
CIRCLE OF TRUST
Donatello shared about some of the challenges his family is facing.
PRAYER
MOLESKIN
Just a reminder about the busyness of this time of year.  Don't neglect those that matter most.  Don't forget what the season is about.  Do love well.  Do spend time with family and invest in relationships that are important.  Reflect on the true meaning of Christmas.  Don't let Satan drive a wedge in your heart, your mind, your soul, your relationships, etc.   Thanks for your transparency Donatello.
ANNOUNCEMENTS
Third Thursday this Thursday night at Main Street Pizza, 9 PM.  Pray for Donatello's family.