32 and snow to start ended clear and still cold. 12 Pax rolled in for a tour of downtown JC including an important historic site for YHC's 50th b-day
DISCLAIMER – Kardashian
PRAYER – Kardashian
COP
Pax expected 50 reps of different exercises but it was a little more basic.
SSH X 25 IC
DQ X 10 IC
IW X10 IC
TTT X10 IC
Mericans X5 IC
Grab the flag and…
THE THANG
Let's mosey.. Run to a few spots then stop for Mericans (IC), abs, and legs
Kings Commons Park – (mericans -10 , bbsu, squats)
Library – lower wall – (incline mericans – 10, lbcs, box jumps)
Asbury Center Parking Lot (Note: See Below) – (hand release Mericans -10, lunges, flutter kicks)
Munsey upper parking lot – (Mericans – 10, jump lunges, box cutters)
Girls Inc. (this hill NEVER gets easier) – (Mericans – 5, slow squats, flutter kicks)
Munsey upper parking lot – (Mericans – 10, squats, bbsu)
Library entrance – bear crawl up first two flights of stairs, crawl bear up last set
CIRCLE OF TRUST – Kardashian
PRAYER – Kardashian
MOLESKIN
YHC woke up a year older; really a day older but there was a new number (respect?). I'm in the best shape of my life and not growing complacent in my health due to the accountability of the Pax of F3NETN.
In our workout today, we stopped at the parking lot of the old JC Memorial Hospital where YHC was born 50 years ago today. The actual building has been razed, but, it's still an important historic site.
I want to thank the men of F3NETN for keeping me young and able to be there for my family in a way I might not be otherwise.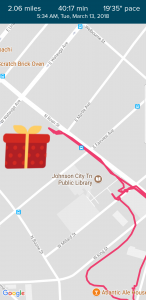 ANNOUNCEMENTS
Thursday night – 9PM 3rd F at Main Street Pizza – topic TBD
Saturday – 2-4PM 2.0s at Heritage Baptist gym for BBall – play and watch/snacks – bring some