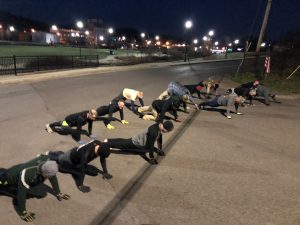 It was a cool 34 degrees when 16 PAX came out to make themselves better
DISCLAIMER
PRAYER
COP
Started with The Motivator from 7 to get some blood flowing. Then straight in to the Merkin for 10 IC.  Next exercise was TTT for a 10 count to get those hammies stretched out. Then back to the merkin where we did 10 IC. Next exercise was the Willie Mays Hayes for slow count of 10.  Of course the Merkin for a IC count to 10. Slow squat to 10. Merkin 10 IC. (See a pattern?) 10 IC LBC. 10 IC Merkins. Warm up complete.
THE THANG
After a good warm-up a mosey was called for. SO basically for the next 20 minutes was a combination of mosey and either 10 IC squats or LBCs and merkins IC. this brought the count of IC merkins to 150. Then we moseyed back to the flag and retrieved it to let it fly at Tombstone hill while we worked on running the hill and continued to alternate the Squats or LBCs and IC merkins. after enough time there we moseyed toward some stairs in the park, but before we did that the flag was dropped on the ground which consisted of a 10 burpee penalty. Then on to the Stairs for Crawl Bears to the top with 10 squats then Bear Crawls down and 5 burpees. Mosey to the where we finished up some incline merkins IC to 180. Lastly we finished up at the field with 3 minutes to spare so YHC decided to make it an even 200 IC Merkins to have a respectable finish for the monthly challenge.
MARY
Mary was not needed.
CIRCLE OF TRUST
PRAYER
ANNOUNCEMENTS
We need PAX on the Q for the month of April.