70 and rain is better than 45
Yesterday YHC reminded the pax of Northeast Tennessee that today was likely to be the last warm day for months. 17 came out to say good-bye.
DISCLAIMER
PRAYER
COP
Warmup
SSH X 25 IC
TTT X 10 IC
DQ X 10 IC
LBAC X 20 <> IC (Lifting alternating legs  – balance is important and an early aging indicator)
Mosey to the pavillion
(TBH – totally forgot to give a pop quiz about the 5 core principles, credo, and mission – sorry guys – maybe next time)
THE THANG
YHC brought the F3 Workout Deck to the AO. The pax was into 2 teams and we started an old fashioned game of war. The winning card was the exercise. Highlights: Every Merkin card seemed to win. Shoulders and arms are smoked. Aces: 100 SSH, calf raises, and 100 Flutter kicks?!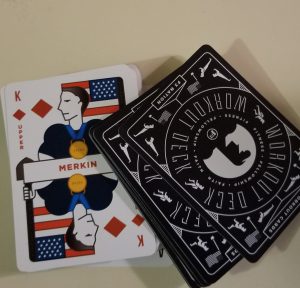 CIRCLE OF TRUST
PRAYER
ANNOUNCEMENTS
CSAUP opportunity – Goliath at the Gorge