After a couple weeks of cool fall weather, YHC was pleasantly surprised by 61 degrees and DRY! 25 guys met in the gloom to work off that dad tax from Halloween night.
DISCLAIMER
PRAYER
COP
Warmup
SSH X20IC
TTT X10IC
DQ X10IC
IW X15IC
LBACs X10IC <> (YHC is trying to encourage a practice learned in NC of working balance into this exercise – keep one foot up)
Mericans X10IC
Plank – Until all 5 core principles of F3 can be recited
What's the F3 mission – Burpees per pax who can't answer
Mosey to the …
THE THANG
Partner up. Introduce bag of Halloween (exercise-labeled) Candy. Draw a piece of Candy out of the bag. Identify the estimated calories for the candy and partners do the exercise on the candy (reps are the calories) in Dora-fashion. One exercises while the other runs about 100 yards. Repeat – repeat – repeat . . .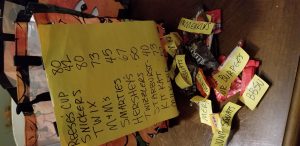 MARY
Back to amphitheater.
Rosalita X20IC
American Hammer X20IC
Flutter Kicks X40IC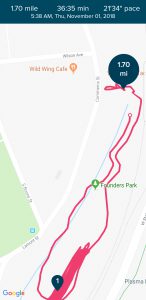 CIRCLE OF TRUST
PRAYER
ANNOUNCEMENTS