Either the cool weather or the holiday kept much of the F3NETN pax fartsacking and snuggling close to ______. BUT, 12 braved the clear 30 degrees, remembering that we warm up real quick!
DISCLAIMER
PRAYER
COP
YHC gave a pop quiz for warmup – Plank until someone can come up with the F3 credo. Took 3 tries so: 3 burpees. Plank untill all 5 core principles were named. Grading was done on the curve but it still took 8 pax to figure it out so: 8 burpees.
THE THANG
Partner up. Partner 1 draws a valentine card out of the bag. Start the prescribed exercise while partner 2 takes a stair lap.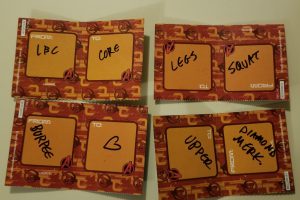 Here's the soundtrack for the morning:

Anti-love songs seem to have more "heart" than sappy love songs. They probably have more passion and a driving beat, so Love Stinks instead of I Will Always Love You.
CIRCLE OF TRUST
PRAYER
MOLESKIN
Love people.
ANNOUNCEMENTS
Get Outside Mountain Relay is May 31-June 1. There are only 6 spots left in the runners team. There is a 20% F3 discount. HC today!!
Form more information: