The rain stopped in time for 19 pax (a few were – are?- rucking) to put in work in the 45 degree gloom. FYI, just because you say you're taking the Q doesn't mean it's yours. As I'm learning, I can connect EVERYTHING to Seinfeld: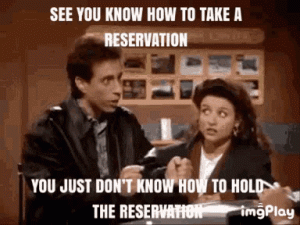 DISCLAIMER
PRAYER
COP
We had a great start with a nice-sized Burpee Train visiting the AO at about 5:58:30.
THEN…
SSH X20 IC
TTT X10 IC
DQ (whirlybirds?) X10 IC
LBAC <X20 IC (left leg balance) >X19 IC (right leg balance)
Indian Run round amphitheater, Wild Wing, and to bottom of Tombstone
THE THANG
Good old fashioned Dora 1-2-3

Partner up > 100 mericans > 200 BBSU > 300 Squats
Alternate Bernie Sanders/Sprint up Tombstone

Mosey to Amphitheater
F3 Workout Deck

YHC removed sprints but somehow all the mericans got bunched up together
After every variety of mericans appeared one after the other, someone called for those to be moved to bottom of the deck. As that happened YHC used his magical powers to move 100 SSH to the top
Final card was 25 Burpees
CIRCLE OF TRUST
PRAYER
MOLESKIN
YHC turns 51 this week. The only thing good about that is that it's not a prime that looks like a prime. I could expand on this but I will cut to the chase: KEEP MOVING. Though many of us are training for various CSAUP events, F3 doesn't encourage us to a goal weight or goal speed, etc. and quit. The Pax of f3NETN encourage each other every day to compete with our less-better-selves to get better in every area of our lives every day.
ANNOUNCEMENTS
Welcome FNG Sega, nee Bill Rambo. Works in web development. Admitted that IF he were up on a Saturday this early, he'd more likely be playing video games than posting to a workout. Initially, Atari was batted around, but in his naivety, he beamed and said, "Yeah, I like Atari," so (sing it with me) https://youtu.be/B3mMY-_n3_E
Lest you forget, 8 of us are currently planning on traipsing through and camping in the mountains of Allegheny County, NC May 31-June 1. YOU can join us and drop our overall mileage from 25ish each to 15-17. HC here: (http://bit.ly/gomr2019hc) and HERE is more info if you're on the fence. If you don't think you can do it, you're wrong. If you're worried, we'll get you ready, because:
The F3 Credo is: Leave no man behind, but leave no man where you find him.