43 PAX descended upon Duck Island at Warriors Path for Kingsport's 2nd anniversary convergence. Great time was had by all. Little Debbie, as Kingsport AOQ for the previous year, was QIC. Ended by handing the flag off to Osmosis for the next year. One FNG picked a heck of a day to join the ranks. Welcome Dracula!
DISCLAIMER
PRAYER
COP
Taste of what's to come…
10 Mountain Climbers IC
10 Monkey Humpers OYO
10 Full Spartan Burpees OYO
10 Merkins IC
10 Side Straddle Hops IC
THE THANG
PAX counted off 1-5 to divide up in to 5 teams (2.0s formed small log team on their own). 4 teams were carrying telephone poles with one being ginormous. 1 team was carrying a sandbag per person. Team competition to traverse Warriors Path area through 8 stations with the logs (or sandbags) never touching the ground (for the most part). At each station, those that weren't carrying a log or sandbag had to do a cumulative number of exercises.
Bottom of Hill – 500 Merkins
Top of Hill – 400 Bulgarian Ball Busters
Railroad Tracks – 300 BBSU
Wilbur's House – 200 Full Spartan Burpees
Railroad Tracks – 300 SSH
Boat Ramp – 400 Monkey Humpers
Marina Parking Lot – 500 Mountain Climbers
Duck Island Lap
All agreed that the team carrying the big log really won even they didn't finish first. Most teams finished. Big log team didn't get the Duck Island Lap.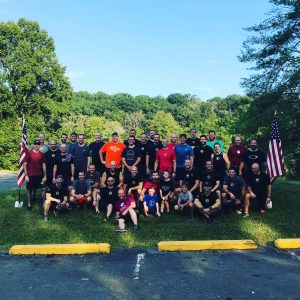 MARY
Thang went over time so no Mary occurred. However, 5 rucked beforehand. 6 ran the Kingsport shovel flag from Wilderness Road to Warriors Path.
CIRCLE OF TRUST
PRAYER
MOLESKIN
Teamwork makes the dream work. Don't forsake the brotherhood of F3.
ANNOUNCEMENTS
Osmosis is now Kingsport AOQ. Order your shirts before the preorder ends.