6 Pax showed for a glorious morning of mountain climbing.
DISCLAIMER
PRAYER
COP
Motivator from 7 – LBC – SSH – Willie Mays Hayes
THE THANG
Start at the bottom of the hill and run up the the stop sign.  10 LBC then run down the driveway stopping at each of the trees along the way and doing 1 decline burpee.  At the bottom, do 10 HTH.
Run back up the hill again increasing the LBC and HTH by 5 each time until 7 rounds were completed.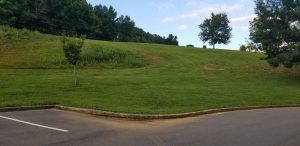 Moseyed to the wall and did 1 LBC then a snow angel pose then back to the LBC and then get up and do 2 step ups on the wall until time.
MARY
Circle up and get in plank.  Each PAX does 1 Push Up around the circle in order then once back to the start, 2 Push Ups.  Repeated until each PAX completed 5.
CIRCLE OF TRUST
PRAYER
MOLESKIN
My F3 Doods keep me motivated to show up and stay in shape.
ANNOUNCEMENTS