11 PAX showed up to put in some work on a soggy gloom in the low 50s.
DISCLAIMER
PRAYER
COP
SSH – IC x 25
Imperial Walkers  – IC x 15
Hillbilly Walkers – IC x 16
LBAC – F&R IC x 10 each direction
Seal Claps – IC x 10
Overhead Claps – IC x 10
THE THANG
Run to a location – do the Reindeer's favorite exercise and prescribed reps – R&R.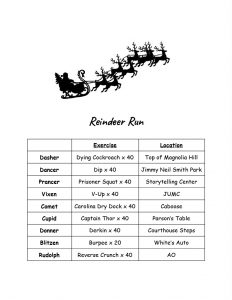 MARY
Honeysuckle – Elevator Merkin
Locks – Freddie Mercury
Moneypenny – LBC
Subprime – Slow V-Up
Deep Dish – Superman
Frazier – Plank/Plank Jack (courtesy of Pam)
CIRCLE OF TRUST
PRAYER
MOLESKIN
Remember the reason we are celebrating Christmas and lead our families in that celebration.
ANNOUNCEMENTS
New Years Day Murph – Sign up for a time slot on netn Slack channel.