December 19, 2017: 5:30 am: Private US Army Bootcamp Fitness:
Building a bond/Brotherhood, Embrace the Suck together enhances the team!!!
My brothers after we finished a 16 hour operation and all together walked 30 miles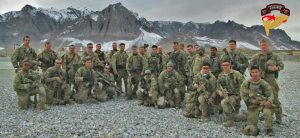 Todays workout started with
Disclaimer
Circleof trust
Prayer
Army PRT Prep Drill-warmup download army prt app
5 reps per exercise in cadence
bend and reach
rear lunge
high jumper
squat bender
windmill
forward lunge
rower
prone row
bent leg body twist
pushup (murican)
Jogged over to do Assualt the objective burpees we do this in Infantry Training in the Army 3 to 5 second rushes to get to cover under direct fire from the enemy go as teams 1st team I'm up he sees me in down 5 burpees when finished and go into the plank position and wait for next team to go. Bounding movements all the way for 100 yards.
This is to simulate having casualties to pull from the battlefield. fireman carry for 10 meters and switch with partner 10 meters all the way down and jog to. circuit training areA
Combat Circuit
50 combat ropes/ partner does 50 overhead arm claps
50 sandbag push press/ partner 50 overhead arm claps
100 overhead. Triceps extension with dumbbell
50 rucksack bear hugs/ 50 lunges
50 side to side rifle shoulder in and outs/ 50 overhead arm claps
300 ABS: continuously do abs exercises switch off and the overall outcome will be 300 reps
Cool-Down: Army PRT 30 secs each stretch
Overhead arm pull left/right
rear lunge left/right
extend and flex in the push-up postion
Thigh stretch seated
single leg over
Todays emphasis "Never leave a Fallen Comrade" is instilled in me all the years being in the Army.  That phrase doesn't just mean on the battlefield, you use it in everyday life. When you see a brother stumble or has lost his way with addictions, alcohol abuse, family issues, etc.  It is our job as brothers to be there for them guide them to get help.  2/ Veterans a Day commit Suicide. Be a battle buddy, watch their six!
Countoff
Circle of Trust
Prayer