Time: 7:00a
Weather: COLD (29 F)
DISCLAIMER
PRAYER
COP
Stuff the Turkey (TTT) – 10 IC
Whip the Taters (LBAC) – 10 IC
Whip the Taters the other way (LBAC Reverse) – 10 IC
Motivators – 5 IC
Willie Mays Hays – 10 IC
Mosey to the flagpole
THE THANG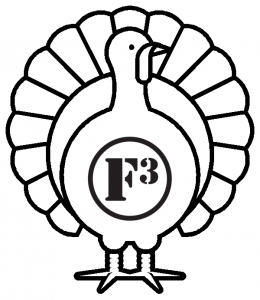 Thanksgiving is full of so many wonderful traditions.  YHC's first timed race was the Turkey Trot 5k in JC.  So this morning, we are going to have our own F3Erwin Turkey Trot.  At the end of every mosey, complete one of the following exercises.
Travolta Merkins (10 – 5 Travoltas on each arm)
Hillbilly walkers (10 – 4 count)
American Hammers (10 – 4 count)
Noodling for Catfish (10 – 5 each arm)
Knerkins (10)
Squats (10)
Gorilla Humpers (10)
Imperial Squat Walkers (10 – 4 count)
Vs (Doc I Hate Yous – 10 – 4 count hold)
Imperial Squat Walkers (10 – 4 count)
Nolan Ryans (10 – 5 swings at Ventura each arm)
Gas Pumps (10 – 4 count)
Rince and Repeat
CIRCLE OF TRUST
PRAYER
Prayers for Doc Ock and Family this weekend
ANNOUNCEMENTS
Do not forget about the mini-convergence this Saturday at 7a Arrowhead.
Erwin Christmas Parade is at 10:30
Christmas at the Bramble 9a – 4p with a fundraiser benefiting the employees of Clarence's
Erwin Kiwanis Christmas Shopping Tour is next Saturday (Dec 2) at 8 am.  Volunteers are needed to take the kids shopping.  To be a volunteer, be at Walmart between 7:30 – 7:50 am.