13 PAX and 27º for a "Top Shelf" tour of downtown Johnson City.
DISCLAIMER
PRAYER
COP
Through the Tunnel 10 IC (Slow, like an actual stretch. Ahem.)
THE THANG
For today's Q, we took a "top shelf" tour of downtown Johnson City, starting out from Founders Park, heading up and over Tombstone Hill to the backside of King Commons Park, then behind Munsey and up "Top Shelf" (the biggest hill in downtown) to Girls Inc, then back down Market Street and through the Farmer's Market, back home (map below). Along the way, we stopped six times to do the following:
10 Merkins
20 Boat/Canoes
30 Shoulder Pretzels
40 Crunches
Plank for the six, then hold for a slow 10 count
We finished with three all out sprints up the Farmer's Market parking lot, with recovery walks back down, and the final one taking us all the way home to the amphitheater. 1.74 miles up and down the two biggest hills we could find + 60 merkins, 120 Boat/Canoes, 180 Shoulder Pretzels, 240 Crunches, and 2-4 minutes of plank time. Good, hard work, men.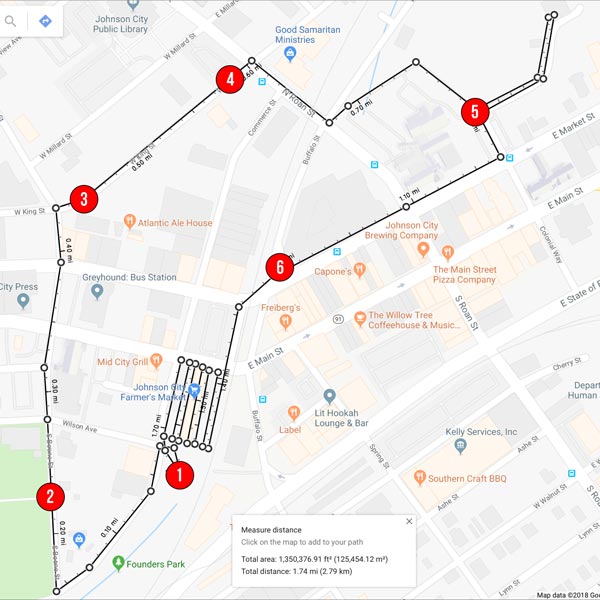 MARY
No time.
CIRCLE OF TRUST
PRAYER
MOLESKIN
Just a quick note about continuing in intentional prayer and being intentional about inviting accountability in areas of life where history proves that we're struggling to do what we want to do (or not do what we don't want to do).
We're all struggling in some area. We can all benefit from some external accountability to help us make progress and change habits. There's no shame in confessing weakness and asking for help. There's freedom and brotherhood and authentic relationship in being known. You don't need to wear a mask. You don't need to meet an expectation or stick your head in the sand. We already know you're not perfect (it's pretty obvious for most of us). You're going to be built up by having brothers to fight alongside you, and we're going to be built up too — knowing we're not alone. You can't really feel loved if you're not really known. 'Fess up, be known, and grow.
Here's my slack post re: the 3rd F focus for February. There isn't a single one of us that can't confess weakness or failure in one of these areas (I can confess it in all eight, and more). I've already initiated accountability relationships in the areas of sexual purity, diet, and procrastination, and it's helping me win where I have a history of losing.
****************************************
@channel 3rd F Focus for February
****************************************
Our 3rd F (faith) focus for the month of February is #accountability. The challenge is to be honest with ourselves about our spiritual, physical, mental, and emotional health, to pursue knowledge about the truth in those areas, humbly submit to correction in our thinking about those things, and to invite external accountability to be climbing and not sliding. Potential areas of weakness and opportunities for growth might be:
Unhealthy habits, selfishness, or perversion re: our SEX drive, views of women, and sexuality in general.
A lack of DISCIPLINE and/or SELF CONTROL and temptation toward sin, unhealthiness, and un-productivity the areas of porn, food, fitness, work, etc.
Struggles with ANGER and PRIDE, perhaps stemming from personal failure, selfishness, immaturity, or an unhealthy identity that is grounded in others behavior, performance, or failure to meet our expectations.
A lack of SPIRITUAL GROWTH.
PASSIVITY or AVOIDANCE of family, ministry, personal, and work relationships and responsibilities.
LAZINESS or a lack of MOTIVATION re: work, home, or family responsibilities (work assignments, home maintenance, intentionality with kids, etc).
HONESTY. Where has fear, insecurity, or an unhealthy source of identity led or tempted us to boast and puff up, rather than humble ourselves and live out of a place of security and confidence as beloved sons of God?
BITTERNESS about unmet expectations, past hurts, current circumstances, or in response to others unfairness, injustice, or wrongs.
Feel free to stray from this list as you see fit, and add to it. I just wanted to plant some seeds to get the juices flowing.
THE MAIN THING is to pick an area (or two) where you recognize that you want to grow, but have struggled maintaining momentum in, and MAKE YOURSELF ACCOUNTABLE TO OTHERS to make gains. Be wise enough to see your weakness clearly and to pursue truth, then be humble enough to submit to that truth and to being accountable to others.
Wisdom and humility, baby. That's where good leadership (and manhood) is at.
Please don't take a pass on this. Other men need you as much as you need them.
Climbing, not sliding.
****************************************
ANNOUNCEMENTS
Prayer for Private's mom, who has been hospitalized with a blood infection that is creating issues in her brain, kidneys, and more.
Prayer for Launch Pad's mom, who should be discharged today, but has some ongoing healing after a tumor removed last week.
Prayer for Wilbur's brother, diagnosed with a melanoma, and likely starting immunotherapy soon.
Prayer for Sweaty Palm's mom, recovering from a cardiac ablation a couple weeks ago.
Many families — PBS, Ma Bell, Mine, Lauren McCallister (the wife of my buddy who died two weeks ago).
3rd F 3rd Thursday feels early this month, on February 15th at Main Street Pizza. 9:00 PM.