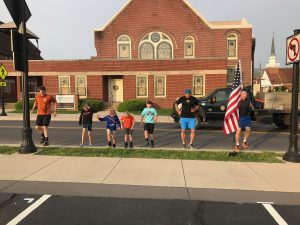 74F609D2-D7AA-48AE-A783-F4B16B04773F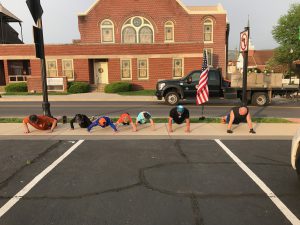 509E2DCC-002D-4C98-BB35-A805682CFC36Cloud covered 55 degree morning
DISCLAIMER
PRAYER
COP
Started off with a few 15 count hold stretches. And a round of agilities.
THE THANG
Off we set on a run to meet up with with fellow F3 men who were volunteering for a Community Festival( The Great Outdorors Festival).
We ran a total of 2 miles at a moderate pace while mixing in different exercises at intersections.
Merkins, 4×4's, squats, diamond merkins just to make a few.
we were also fortunate to pick up a few kids who wanted to workout and run with us so we brought them on board and ran a lap of downtown while people setting up for the Festival looked on.
MARY
Mary included some core exercises brought to the table by the PAX each leading his own exercise.
CIRCLE OF TRUST
PRAYER
MOLESKIN
With the Festival and graduation other events in the area we did not have a huge turn out but the men who showed brought 110%.
ANNOUNCEMENTS
Insert information about upcoming events, 2nd or 3rd F opportunities, and any other announcements.