It was 52 with an occasional drizzzle when 8 pax convened in the gloom
DISCLAIMER
PRAYER
COP
SSH x 26 IC
DQ X 10 IC
LBAC X 10 IC <> Feet up
Shoulder Preztels
OHC X 10 IC
Seal Claps X 10 IC
Moroccan Night Club
THE THANG
ABCs with a little twist – a bucket of four letter words. Pax took turns drawing words. Run a lap after completing a word. Plank on the 6.
LOIN
BARD
OOZE
JOLT
CURT
NAVY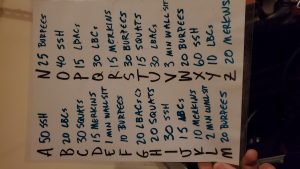 CIRCLE OF TRUST
PRAYER
MOLESKIN
Insert any personal comments, notes, devotion content, etc.
ANNOUNCEMENTS
Get on the Murph Spreadsheet for MONDAY!!