Perfect 49 degree day and 13 willing PAX to live out YHC's Special Ops fantasies
DISCLAIMER
PRAYER
COP
SSH X 15
TTT X 10 (started a little fast – sloooow down)
Abe Vigoda X 10  (whew – sore and tight…need some Willie Mays – audible called)
Willie Mays Haze X 10
Little Baby Arm Circles X 10 Forward and reverse + Chinooks
THE THANG
Today's work out was designed for one purpose: to have small groups of men working together and staying together.  A little competition and special ops theme helped break up the PT.  The men counted off in threes.  The 3 newly formed squads gathered together and fully sized up their new team mates.  YHC acted as Platoon leader and assigned the three squad leaders.  Squad 1: Helpdesk, Squad 2: Wilbur (R), Squad 3: Fielding
The Platoon gathered around the whiteboard and the Mission was revealed:
Each squad mosey to the first assigned station
Locate cone and follow instruction for assigned PT
Complete PT and pick up the coupon (three 28 lb. cinder blocks tied together)
Mosey to next assigned station and repeat.  keep coupon with squad.
The first Squad to Station 4 wins bragging rights
Perform core work
That first squad picks up the prize and carries back to rally point in addition to coupon
Map of AO: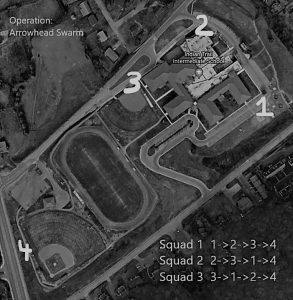 Station 1: A Little Murph – Location: Near Pull up bars
20 Pull ups
30 Mericans
40 Squats
Station 2: More of the same – Location Back lot behind School
30 Mericans
40 Squats
40 Lunges (count on rt leg)
Station 3 – Murph modified
30 Mericans
40 Squats
40 Dips
Station 4: The "Prize" and a little Core work
The first arriving Squad found a 30 lb ruck sack waiting and some core work to conclude the rotation:
30 Big Boy Situps
40 American hammers
50 Flutter Kicks (count on rt leg)
The timing of the exercise worked out well, and all Squads rallied back to the start point with a few minutes to spare.  Each squad performed self directed PT until time was called.
Squad 3 won the bragging rights.
CIRCLE OF TRUST
Counterama – 13 in all
Namerama – all vets, no FNGs
PRAYER
MOLESKIN
Today we talked about the F3 mission and the F3 Credo.  Working as a small group with 3 guys connected while moving, there was no choice but to work together.  The workout was also designed to give more than one man a leadership role.
F3 Mission is to plant, grow and serve small workout groups for the invigoration of male community leadership.
F3 Credo "Leave no man behind, but leave no man where you found him."
When YHC queried the men on the mission and credo – Jar Jar nailed both with no hesitation.  I think this was due to a burpee beatdown donatello laid on the men after the Growruck, where we were punished for not knowing certain credos, and such.  No man was left behind today.  We continue to fulfill the F3 mission.
YHC presented the men with the OBT and Dredd penned tome "Freed to Lead".  This book explains the "problem" facing all adult men today, and presents a "solution" in the formation and implementation of small peer led workout groups.  There's more to the story – it's in the book.  New 2018 Arrowhead AO QIC Pedialyte took the book.
ANNOUNCEMENTS
3rd Opportunity – Dec 21st – 9:00 At Main Street Pizza, JC.  Please hit up Penn-Seagal or Twilight for more info.
Saturday, Dec 23rd – Iron Horse Q – 6:00 AM.  No Arrowhead Q
Murph – Dec 30th – Arrowhead AO 7:00 AM (?) double check Slack.