63rd Birthday Q. Muggy, 70 degrees, 14 PAX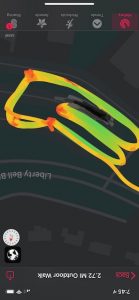 F3 – 1
DISCLAIMER
PRAYER
COP
Carried blocks to the three-tier parking lot.
THE THANG
Turn on run or walk workout to map today's effort. You should see the number "63" when we are done. The goal is to run 3 miles with 4 stations and 10 reps at each station.
Station 1: Bottom of the "3." Start at the bottom middle. 10 curls each time.
Station 2: Middle of the "3." Run around median to the next level. 10 merkins then, alternate every other time with a leg workout.
Station 3: Top of the "3." Run around the median to the top level. 10 step bear crawl then, alternate ab workout.
Station 4:  Top of the "6." Short-run to the top of the stairs. All on your "6" exercises.
Station 5: Make the loop of the "6." Run around the cones at the bottom of the stairs and back to start.
MARY
Carry Blocks back to AO.
CIRCLE OF TRUST
PRAYER
MOLESKIN
Humbly, I stated that at 63, "PAX need to be like me." I mean, God has put men in my life at every stage to help me exercise and grow. Looking back on life, His path of always having a group of men to exercise with and grow spiritually, totally enriched all aspects of living. I could not have had the rich life I've had without the other men, including F3, who have motivated, exercised, studied, challenged, and corrected.
ANNOUNCEMENTS