8 PAX and 42º for a guest Q in Iron Valley.
DISCLAIMER
PRAYER
COP
I was so excited to get started, and to get three rounds of work in, that I forgot to kick things off with a warmup. Oh well. We warmed up quick.
THE THANG
Today's work was 10 stations, intermixed with an .08 mile lap around the parking lot. Work. Run. Rinse. Repeat until time is called.
Station 01: 20 Merkins
Run
Station 02: 30 Block Curls
Run
Station 03: 20 Squats
Run
Station 04: 40 Crunches
Run
Station 05: 20 Overhead Presses
Run
Station 06: 20 Lunges
Run
Station 07: 30 Boat/Canoes
Run
Station 08: 10 Block Burpees
Run
Station 09: 20 Jumping Lunges
Run
Station 10: 20 Heels to Heaven
Run
Sans-warmup, we got a solid 55 minutes of work in, amounting to three rounds (or just under) for most of the group — plenty of full-body reps and 2 to 2 1/2 miles.
MARY
Worked up to the end. No need for Mary.
CIRCLE OF TRUST
PRAYER
MOLESKIN
Welcome Peterbilt's 9 y/o FNG 2.0, "Clutch." He likes to help his dad work on cars, and loves sports. He's a cool kid. A cool name seemed in order.
---
For a moleskin, I just talked a bit about how much F3 has meant to me over the past 19 months — specifically how your words, example, encouragement, wisdom, and brotherhood have built me up, and helped me change my thinking about how to face challenges. Whether I'm fighting hills, burpee trains, bills, laziness, lust, donut cravings, or bitterness… The things I've learned from hanging out with you men has made me a better man in every category of life.
Thanks for teaching me that when I'm tempted to quit, I'm only at 40% of my potential, Kardashian.
Thanks for bringing up the six with me for those first few months, Honcho. Your race, your pace, brother. Slow and steady.
Thanks for the daily accountability, Brownie and Cold Call. There were days that I would have given in, had it not required that I confess my failure or lie to you in the morning.
Thanks to the movie "Meet the Robinsons." "Keep moving forward" is a great mantra. After all: "If I gave up every time I failed, I would have never invented the meatball cannon." Good stuff.
Thanks to Donatello for confessing to me that the Circle Knee Jerk is his favorite exercise (that's a lie). But for real, thanks for kicking this whole thing off. It's a good thing, for a lot of men and will be for a lot more.
Thanks for your quiet, steady leadership Rite-Aid. You set a high bar for the rest of us to follow, in every category.
Thanks to Dredd or OBT or whoever dreamed up the climbing or sliding analogy. Plateaus are myths. We never arrive. We either climb or we slide. We make progress or we give up ground.
Thanks to Blueberry Fairy for the initial invite. I'm glad we came even though nicknames and a culture of tough-guy lingo looked a little too "frat boy" for a couple of old men. It's actually been a great fit, and a lot of fun — something I didn't realize I wasn't having enough of.
Fitness, fellowship, faith, fun, farting, fruit cups, failure… There are more than three Fs firing for me in Northeast Tennessee. I'm so glad to call you men brothers and so built up by your actions and your words.
Feet on the floor, men. Keep moving forward.
---
P.S. Thanks for the chip, Iron Valley. I think it's a great idea, and I'm very proud of mine.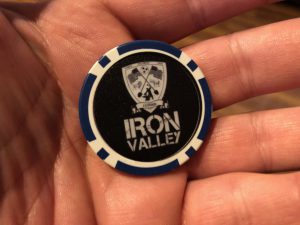 ANNOUNCEMENTS
Our 3rd F focus for January was prayer. The challenge was to pray intentionally for at least five minutes a day including confession, repentance, praise, thanksgiving, petition, and intercession each time. If you've slacked or not participated, there's no better time than today. Prayer changes things. Most importantly, it changes us, and helps us see how God sees and seek what God seeks. We only have five days left. Finish strong.
Grace Fellowship Church in Johnson City is offering a Re-Engage marriage class with one more preview week on Tuesday, January 30th. More info at http://www.gfcnow.com/reengage.
Lots of upcoming CSAUP events in the #csaup channel on Slack.
Escape Hatch is home with the new baby in tow. Congrats!
Ongoing prayers for Chum as he's working on getting his aging parents situated, home sold, etc.
Praying for Jake, coming back from a leg injury, then having some bad blood counts that are troubling.
Praise and ongoing prayers for Swingline's 2.0, healing from some intestinal issues.
Ongoing prayer for Ma Bell's marriage and family.
Prayers for Wilbur's older brother, likely starting immunotherapy soon.
Prayers for Sweaty Palm's 84 year old mother, who had a cardiac ablation done a few days ago.