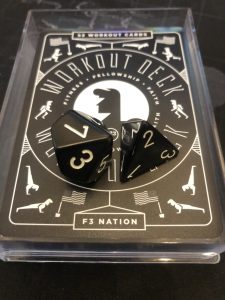 9 PAX thought it was a bright idea to come out in the frosty fog to enjoy a rather annoying game of Deck & Dice led by YHC!
DISCLAIMER
PRAYER
COP
Motivator – From 7
Bat Wings (LBAC-Forward, LBAC-Backward, Seal Claps, Overhead Claps) – IC – 10
BBAC – IC – 5 (tried some Big Baby Arm Circles for fun!)
Hill Billy Walkers – IC – 10
TTT – IC – 10
THE THANG
F3 Workout Deck and two Dice (4 sided and 10 sided) caused quite a bit of SUCK.
Exercises on the card plus reps ranged from 10 – 49 and included:
Merkins (Ranger, Hand Release, Chuck Norris, Wide-Arm)
Monkey Humpers
Slow Squats & Flutter Kicks performed IC (THESE SUCK!!!)
Bulgarian Split Squat & Wojo Squat
…and a bunch of other stupid stuff
CIRCLE OF TRUST
PRAYER
MOLESKIN
In life, we don't know what cards we will be dealt or how the dice will roll. However, we have to decide how we will react when things don't go our way. It is our choice to make the most of what we have or to get frustrated and sulk.
A personal beatitude that I live by is this:
Blessed are the flexible for they shall not be broken.
Let's make the most of what we have been given and be the F3 examples in our homes, workplaces, churches and communities.