5 pax showed up in the balmy 39 for a game of Boggle
DISCLAIMER
PRAYER
COP
SSH X 20 IC
TTT X 10 IC
WMH 10 <>
LBAC X 10 <> IC
IW X 10 IC
Merkins X 10 IC
THE THANG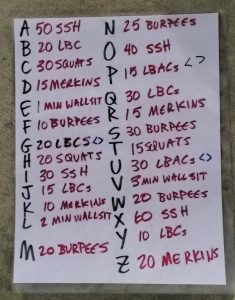 YHC attempted to give the pax what they needed for their February challenge and therefore provided a set of choice words:
Iron Horse
Snow Man
Paint the Wall
Wax on
Wax off
Sand the Floor
Founders Park
A thinking person might notice these words are made up of Burpees, Merkins, and SSH.
Wall Sit = Stair lap to Wild Wing Wall
After each phrase – Stair lap
We didn't get too far into the list. See above.
CIRCLE OF TRUST
PRAYER
ANNOUNCEMENTS
Convergence 2/20 @6:30AM at The Range