It's hard to call it the gloom when it's 60 and clear, but 17 pax showed up to put in some work either running or under a rucksack.
DISCLAIMER
PRAYER
COP
A few stretches and a Ponzi (who NEVER showed) lap.
THE THANG
Run to the skate park, divide into two groups. 1s – lateral jumps, 2s box jumps. 5 reps then about 1/3 up the hill, 10 reps – 2/3, 15 – touch bollards at top. Switch. Run long way back to stadium. Donatello on the stairs next to the bleachers. AYG 50, mosey back AYG 100.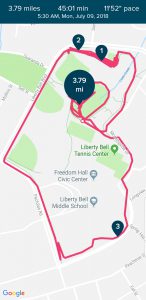 CIRCLE OF TRUST
PRAYER
August 4 – Family pool party + 2.0 event. More info to come.