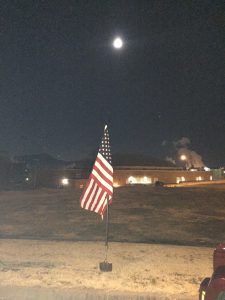 Clear 6 to 8 degrees, little or no wind with a moon over Bays Mountain.
For the first Wilderness Road Posting of the year 3 brave/questionably intelligent men showed up looking for a Q.  One was found and we ran with it literally.
DISCLAIMER
PRAYER
COP
Motivators, SSH, TTT, LBAC Fwd/Bwkd/Ovhd, Mericans, SSH, Burpees
THE THANG
As we were making up as we went along we moseyed around the perimeter (1.5 miles) of the school and Civic Auditorium.  Stopped to do some mericans, box jumps, 3 sets of dips.  Moseyed back to parking lot.
Block Party
3 sets of 15 reps each of curls, kettlebell swings, overhead press, tricep extensions
MARY
LBC – 50, Flutter kicks – 20 x 2
CIRCLE OF TRUST 
PRAYER  Wilbur shared about a cousin whose husband was just diagnosed with ALS.  Has three kids ranging from 21 to 12.  Scrum lost his mother to this disease and could truly empathize.
MOLESKIN
Being consistent in showing up for workouts is important make no mistake.  But being consistent in our commitments to God, Family, Friends and Job is what we are training for when we come out in cold weather.  If we can do this today and other days when most guys are still sleeping then we surely can make the effort to meet our life commitments.
ANNOUNCEMENTS
Insert information about upcoming events, 2nd or 3rd F opportunities, and any other announcements.