18 PAX descended on Arrowhead ready to put in some work on a perfect 64 degree morning. Typical mumblechatter ensued from the usual suspects.
DISCLAIMER
PRAYER
COP
The customary Arrowhead Jester butt slap has become akin to the striking of the gavel in a courtroom calling the Q to order.
TTT – 10 IC
LBAC – 10 IC
LBAC Reverse – 10 IC
WMH – 10 count (R then L)
Additional mummblechatter prompted a round of merkins  – 20 IC
Mosey to the playground
THE THANG
The cones were ready and waiting setup as 6 stations with a combo exercise assigned to each. PAX counted off by 6s giving us 3 per group. QIC demoed all the moves and sent the PAX to their stations. Each station is AMRAP for 3 minutes, followed by 1 minute of core work, and then rotate to the next station. Stations were as follows:
Pull-up / Static chin-up – 5 pull-ups and then jump back on the bar in a static chin-up hold for a 10 count
Squat / Knee Thruster – Standard squat followed by a right leg knee driver (raise the leg to chest) then another squat and the left knee driver.
Bear crawl / Merkin – 2 cones were setup 10 parking spaces apart. Beginning at the first cone, bear crawl to the first parking line, 5 merkins, and then bear crawl to the next. Roughly 50 merkins total.
Sprint / Bernie Suicide – 3 cones were setup across the parking lot. Sprint to the first cone, backpedal back to the beginning cone, sprint to the far cone, and then backpedal back to the beginning cone again.
 Wall Climber / Decline Merkin – With feet elevated roughly 45 degrees in a plank against the wall, 10 mountain climbers. Reset the feet and rep out 5 decline merkins with feet elevated on the wall.
Burpee / Box Jump –  Using the benches on the edge of the playground, perform a burpee straight to a box jump.
Core moves were: Plank Hold -> Scissor Twist -> Flutter Kicks ->Sphinx Crunch Hold -> American Hammer -> Plank Hold w/ alternate arm/leg raise
CIRCLE OF TRUST
PRAYER
MOLESKIN
Several of us are currently in a study on the book of James. Powerful truths in this short book.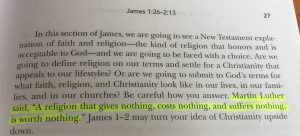 ANNOUNCEMENTS
Shepherds Men March Run  – 8am Sat beginning at the ETSU football field
Memorial Day Murph – Monday May 28th 7am at Arrowhead