7 PAX put feet on the ground and braved the 37 degree temps for a little workout. YHC stayed up too late to watch his team in the Workd Series. Last time Atlanta was in the WS was 1999. YHC decided a playlist of hits from '99 was in order.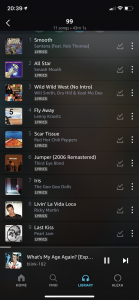 DISCLAIMER
PRAYER
COP
Slaughter Starter, which Beanie showed up late for. Little baby arm circles(forward and reverse) IC -15. Willie Mays Hayes – 10 count hold to each side.
THE THANG
YHC has been dealing with some back issues so the workout could be done with bodyweight or coupon.
Bodyweight
Round 1 – 50 SSH(2:1), 40 Squats, 30 WW2, 20 Merkins, 10 Burpees, 1 lap around track
Round 2 – 50 SSH(2:1), 40 Lunges, 30 Flutter kicks(4:1), 20 Carolina Dry Docks, 10 Burpees, 1 lap
Coupon
Round 1 – 50 SSH(2:1), 40 Squats, 30 WW2, 20 Merkins, 10 Burpees, 1 lap around track, 1 lap
Round 2 – 50 KB Swings, 40 Lunges, 30 Flutter kicks(4:1), 20 Overhead Press, 10 burpees, 1 lap
MARY
NOPE
CIRCLE OF TRUST
PRAYER
MOLESKIN
Don't be an asshole
ANNOUNCEMENTS