DISCLAIMER
PRAYER
COP
SSHs | IC x 29 (since I was born on the 29th)
Bat Wings | IC x 10 (since I was born in October, the 10th month)
Hairy Rockettes | IC x 7 (since I weighed in at 7 pounds…)
No Surrenders | IC x 6 (and 6 ounces)
THE THANG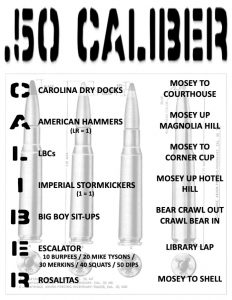 MARY
Didn't happen!
CIRCLE OF TRUST
PRAYER
MOLESKIN
"The grass withers, the flower fades, but the Word of our God will stand forever." ― Isaiah 40:8
"In the beginning was the Word, and the Word was with God, and the Word was God." ― John 1:1
These bodies are just tents! We try to keep them in shape, make sure there are no leaks, damage, etc. But the fact of the matter is, we won't last forever. The Word of God, Jesus, is eternal. He was before time and will be throughout eternity. He has offered us the opportunity to live with Him forever. Let's take advantage of that gift!!!
ANNOUNCEMENTS
Best Legs No Excuses November challenge is just around the corner!