10 pax climbed Ranger Hill for a clear, dry 32 degree morning of work.
DISCLAIMER
PRAYER
COP
A little snow was left on Church Hill so pax made a run down to the old parking lot and bear crawled up the hill to warm up and made their way back to the AO using a modified indigenous run.
THE THANG
From the archives, YHC pulled out last January's timed challenge and made a few modifications that can be used by Rangers to assess their progress every few months during a Q.  Rumor is that the resident CPA Beanie is already creating a spreadsheet for tracking, starting with today's numbers.  
YHC kicked off the Ranger Time Trials with a Strava-verified fan favorite:  the Ranger Mile.  Several pax set a PR on the course today which was modifiable for distance if a pax chose.  Next, we moved into two segments of the Q: a series of 1 minute exercises with a 20 second rest between each then a series of 2 minute exercises with a 20 second rest between each.  Pax recorded their reps on the parking lot with chalk provided by YHC.  The appropriateness of YHC's music choices playing during the Q were questioned a couple of times.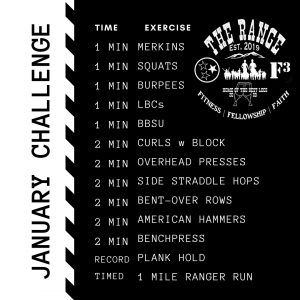 MARY
Pax finished the reps with less than 3 minutes remaining on the clock.  Beanie called out 25 V-ups OYO and then pax  planked until time.
CIRCLE OF TRUST
PRAYER
MOLESKIN
In addition to tracking our personal fitness best at the Range today, we celebrated Ultra, our newest dad, continuing to shower him with a literal carload of diapers, wipes, and other baby paraphernalia.  The three respects (Precious, Chum, and Moneypenny) offered some insight in embarking on this journey:  be present, know that your love is the most important thing you can give your kids, and don't ever let an opportunity pass to tell them you love them because that's the most important thing they'll ever hear us say.  Just like tracking our fitness occasionally, we all need to track our fitness as husbands, dads, friends, and leaders.
ANNOUNCEMENTS
Get on the Q!  Remember that convergence is coming up at Arrowhead the last Saturday of January.