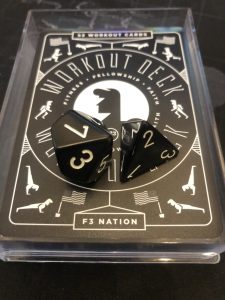 7 PAX rolled in on a relatively nice (it was DRY!!!) February morning in the gloom for an F3 Deck & Dice Q led by YHC!
DISCLAIMER
PRAYER
COP
SSH – IC – 20
Bat Wings (LBAC-Forward, LBAC-Backward, Seal Claps, Overhead Claps) – IC – 10
Abe Vigoda – IC – 10
TTT – IC – 10
THE THANG
F3 Workout Deck and two Dice (4 sided and 10 sided) caused quite a bit of SUCK.
Exercises on the card plus reps ranged from 10 – 49 and included:
Merkins (Ranger, Hand Release, Incline, Wide-Arm)
Monkey Humpers
Slow Squats & Flutter Kicks performed IC (THESE SUCK!!!)
Bear Crawl (across parking lot and back)
Smurf Jacks (49 of these and you feel the BURN!)
…and a bunch of other stupid stuff
CIRCLE OF TRUST
PRAYER
MOLESKIN
Always be READY!