13 Pax showed up in the not too gloomy gloom to help celebrate Kardashian's 28th wedding anniversary.
DISCLAIMER – Kardashian
PRAYER – Kardashian
COP
Warmup
SSH X28 IC
TTT X14 IC
DQ X14 IC
IW X14 IC
HW X14 IC
LBAC X14<>
POP QUIZ –

Plank – What's the mission of F3? Wrong! 5 Burpees (a few times)
Plank – What are the 5 Core Prinicples of F3? Wrong! Wrong! Wrong! 5 burpees (several sets)
Plank – What's the Credo of F3? WRONG! Come ON!! 5 burpees (ugh!)
There might have been some mumblechatter about "I don't get on the website!" "I just come to workout, I didn't know there'd be a quiz!" "Why should we all get punished because he doesn't know why we do this?" (Consider that last one for a bit)
THE THANG
Mosey to Tombstone Hill and partner up for a Dora workout
112 Mericans
224 LBCs
336 Squats
Run ALL THE WAY to Main St (red light at past First Pres) and back
At this point, YHC explained the reason for numbering. We discussed how marriage is a partnership and often the challenges of marriage are repetitive (Haven't we done this before?) but if you have a strong partner you can share the hardships.
So…
336 Lunges
224 BBSUs
112 Mericans (completed by all pax together back at the start)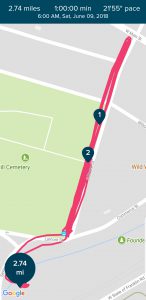 CIRCLE OF TRUST – Kardashian
PRAYER – Kardashian
MOLESKIN
There's an interesting dynamic at our house this week. Celebrating an anniversary a week prior to a daughter's wedding makes one look back on what has and hasn't worked over the years. One thing that has worked is the commitment to no letting the sun go down on our anger. YHC has had more than a few late nights as an issue has been hashed out. Over this week, share in Slack with Pauley, what has and hasn't worked for you.
ANNOUNCEMENTS
Convergence: Saturday, June 16th at 7AM at Iron Horse. Come one, come all.
Brute Force Mile coming in July.